The Best Dupe for the Drunk Elephant Protini™ Polypeptide Cream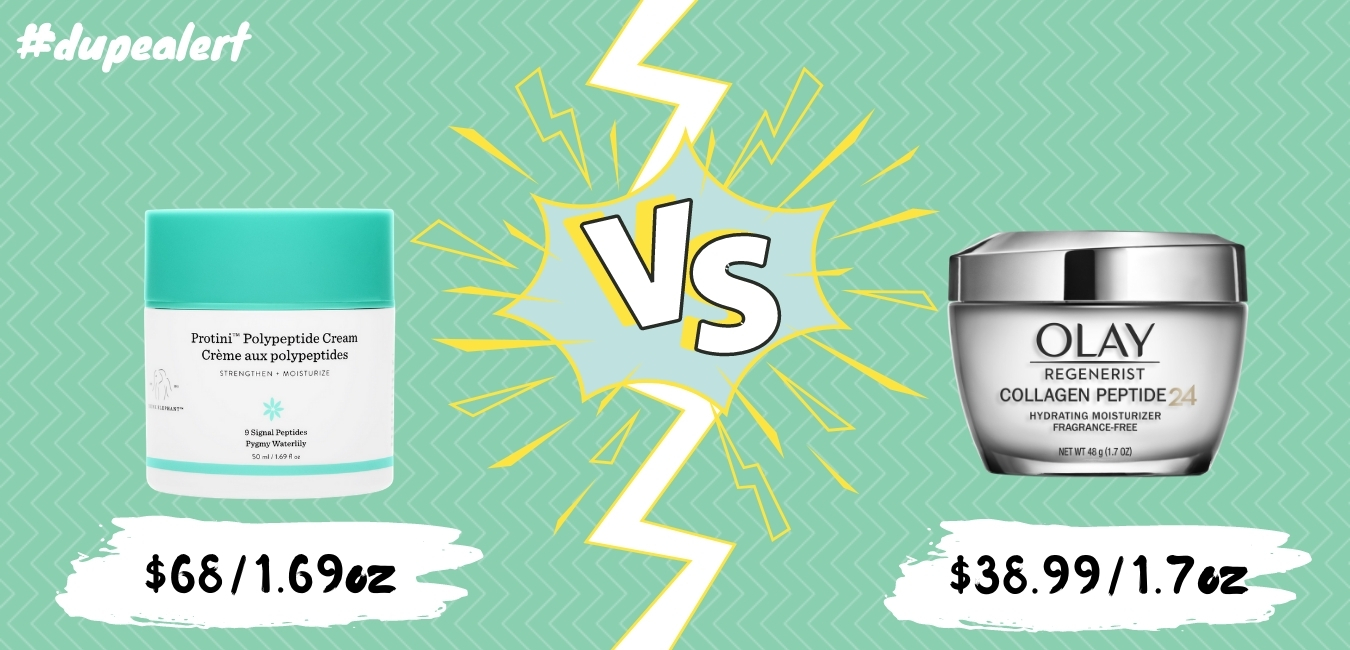 #Dupealert is a series highlighting our favorite beauty dupes. These are products comparable in results but differ in prices and other qualities. We are giving you all the info, but you should go for whatever suits your preferences.
Let's admit it. We all buy beauty products for their cute packaging and how it looks in our shelfies. Drunk Elephant is one such photogenic brand - word on the street is that it's too expensive for what it is.
Do we agree? Well..cute packaging and marketing certainly don't come for free. If you are willing to let go the cute packaging and save some money for [insert whatever you like here], you can almost always find an equally effective and more affordable alternative.
For Drunk Elephant Polypeptide Cream, we found Olay Collagen Peptide to be a close dupe. Both have peptide as the key ingredient and other hydrating, smoothing ingredients. Although DE has a complex with 9 different peptides and Olay has only 1, unless we know the concentration of those, we are not sure if that makes a difference - at least we haven't seen the difference with our 👀.
Drunk Elephant Protini™ Polypeptide Cream
Olay Regenerist Collagen Peptide 24 Moisturizer
Price
$68/1.69oz
$38.99/1.7oz
Three Words

Firming
Smoothing
Anti-aging

Hydrating
Smoothing
Firming

Hero Ingredients
Signal Peptide Complex, Pygmy Waterlily Stem Cell Extract, Soybean Folic Acid Ferment Extract.
Collagen Peptide, Vitamin B3 (Niacinamide),Pro-Vitamin B5.
Suitable Skin Types
All skin types
All skin types
Product Safety - EWG Score
4
2
Cruelty Free?
✅
❌
Alcohol Free?
✅
✅
Want more dupe alerts?
Subscribe
to have new alerts delivered to your inbox!