The Better Dupe of the Glossier Skin Tint
Many don't get the
Glossier Perfecting Skin Tint
($26). Is it on my face or not? Why bother putting it on if one cannot tell. But for those with almost perfect skin or prefer to let the skin show through, the Glossier skin tint was the holy grail product that didn't exist when it launched. It gives the skin just a tiny bit wash of color to even out the skin tone, while the glycerin works to moisturize and glow up the skin.
Why looking for a dupe of Glossier skin tint? Maybe you want just a bit more coverage, or you want more shade, or you want sunscreen added, or you want more skincare benefits… Even if you want all of that, the
ILIA Super Serum Skin Tint SPF 40
($48) will make you happy.
I know, I know, it's more expensive. For starters, you need much fewer drops for each application, so it will last you a long time. Also, Ilia's skin tint is a hybrid of skincare, skin tint, and SPF. It's formulated with ingredients like squalane, hyaluronic acid, and niacinamide (all the great ingredients) that hydrates and plumps up the skin. The coverage is light (but more than Glossier's) but buildable. The SPF 40 with non-nano zinc oxide is enough to substitute your daily sunscreen.

The best thing about it is it doesn't stay tacky on the skin like a lot of hydrating skin tint, but will dry down and settle on the skin after 30–60 seconds, while still maintain the dewy finish.
Don't just take our word from it, editors from ITG also put them next to each other on the grid.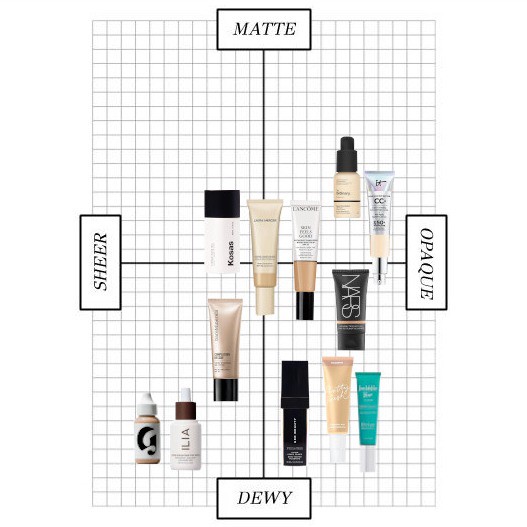 Want more dupe alerts?
Subscribe
to have new alerts delivered to your inbox!